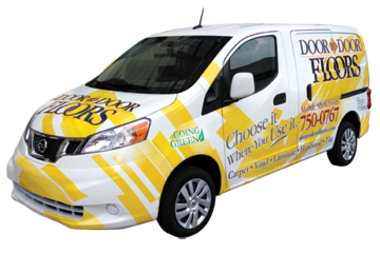 DOOR TO DOOR FLOORS delivers the highest level of personalized service in selecting and installing new floor covering. Our customers benefit from convenience through our mobile showroom, knowledgeable team members, affordable, quality products, professional installation, and an accelerated order-to-installation cycle. We are honest, courteous and fair with our customers, suppliers and sub-contractors 100% of the time.
Choose the perfect floor covering while sitting on your sofa at the convenience of your schedule.
Make quicker decisions on style and color by having samples to visualize with your home's décor.
Select your product, have your home measured and have a quote or place an order in about an hour.

Traditional Flooring Store
Make time to visit stores after work or on weekends.
​Load up on samples that you think will be the best and hope you don't have to make multiple trips.
​After making your selection, schedule a time for a person to visit your home to measure for quote.
​Wait for a phone call later to give you a quote.
​Go back to the store to write up an order and schedule the job.