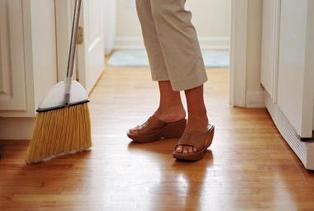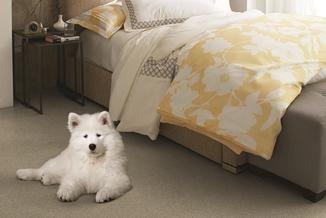 I am guessing that if you have allergies, or if someone in your family does, you have heard the debate of whether it is better to have carpet or hard surface floor covering in your home. Well, the short answer is, "it depends." Multiple studies in the US and in Europe have been conducted over the last 5-7 years and they all have come to this same conclusion. In order to know what might be best for your home, you will have to read a little further.
Good house-keeping is more important than the type of flooring you have. If you are the type of person who likes a home that is kept immaculately clean, then hard surface flooring might be a more appropriate flooring choice for you. In this case, it will produce a cleaner environment. Experts would suggest – beyond cleaning your floors – that you keep closet doors closed, get rid of curtains, change your air filter regularly and wash linens weekly to keep allergens to a minimum. Additionally, if you are shopping for new furniture, consider leather or something that is easier to wipe clean than fabric-upholstered furniture. This will make for a cleaner environment, too.
On the other hand, carpet can serve as a filter for dust in homes that are not cleaned as frequently. It takes more air movement to lift dust into the breathing zone from carpet than from a hard surface floor. If you can't remember the last time you cleaned your floors, don't be embarrassed, but maybe carpet is a better choice for you. Other variables such as having dogs, cats, clutter, dusty bookcases and a smoker in the home could be more of an irritant than the type of floor covering you have. Consider your particular circumstances and see if there are more inexpensive changes you can make to your environment that could make a more positive impact on your allergies, prior to spending unnecessary dollars on getting new floor covering that is "cleaner." It would be unfortunate to find out after the fact that you just ripped out the best flooring choice for your lifestyle.
When you purchase new flooring, you should mention your allergies to the flooring dealer so that they know to send a non-smoking installation crew. Also, if you decide that new carpet is right for you, it is important to ventilate your house for 72 hours immediately after installation. The reason for the ventilation period is that the new carpet smell can be a temporary irritant to allergy sufferers.
This advice comes to you from my personal experience as a 40-something year-old, asthma and allergy sufferer. Remember, it is important to consider the entire picture of your home environment prior to replacing your flooring. Don't just fall for the "hard surface floors are better for people with allergies" adage.
Paul Prince is President of DOOR TO DOOR FLOORS, INC., a shop-at-home carpet & flooring dealer in Columbia, SC, and has 25 years' experience in the flooring industry. His company has been awarded the Angie's List Super Service Award for the last three consecutive years as a result of his company's commitment to excellent customer service. ​