​​Columbia Flood Restoration Help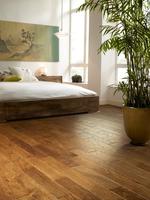 Hardwood floors command attention in any environment. It is a distinct flooring product that offers durability, strength and elegance. In today's flooring market, there are seemingly endless choices available for the customer. It can be a daunting task to decide on just one look for a product that will likely be in your home as long as you live there…or maybe longer.
So how do you choose? How do you embrace trends but pick a classic floor that will not go out of style? We have some tips for you that should help you make a choice that you will love for years to come.
Mixed Widths​
If you really want hardwood floors, but you want something a little bit different, try mixing it up. One trend in our industry that we are seeing is combining smaller width hardwood boards with wider boards. When these floors are completed, it gives a distinct randomness that offers customers a new twist on a classic product. Don't worry about dusting off your algebra notebook, though. There are hardwood floors that have the varying widths neatly packaged together to save you the hassle. All you have to do is decide on the color and species.
Weathered Looks
Hardwood flooring with a weathered appearance is gaining in popularity. If you haven't seen today's new "old" styles, it is worth the look.
Do you like a contemporary style? Don't panic. Tim McLendon, a featured interior designer for HGTV and other design publications told us that "the current trend integrates contemporary style along with rustic design." You can embrace this trend and blend your contemporary tastes to make a dynamic and enjoyable living space.
Though trends may not last forever, the weathered look flooring appears to be a style we will continue to see for years to come. You can have the aged classic look, but get it instantly.
Say "Hey" to Gray
Gray is in. While it is easier to change your wall color and your pillows to gray than your hardwood floors, there is a wide array of colors that will complement the popular trend of using gray in your home's décor. From medium to light browns with a hint of gray to full-on gray hardwoods, there are some great color selections available. And do not worry – your floors will still look great when beige eventually becomes the new gray…again.
More Than Common
Look out bedrooms, here comes the hardwood! Another trend we are seeing is that hardwood floors are being chosen over carpet that extends beyond the common areas of the living rooms, dining areas and hallways. While people sometimes say they want the comfort of carpet when they step out of bed, more and more of them are choosing hardwood for their bedroom floor. If you like the feel of carpet with the character of hardwood, you could always add an area rug. It is a great way to have the best of both worlds.
Engineered Hardwood Floors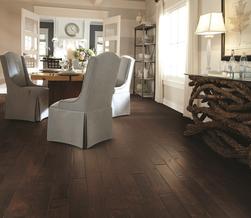 One last trend we are seeing is that people are choosing engineered hardwood over solid hardwood floors. There are big differences between the two. Don't let the term "engineered" scare you, though. Engineered hardwood flooring is all-wood. Though we will not be tackling the differences of these products fully in this article, we will touch on two things as it relates to the trends:
People want wider boards. With the trend of mixed widths hardwood comes one of the reasons why customers are choosing engineered hardwoods over solid hardwoods…stability. As a rule of thumb, the wider the board, the less dimensionally stable it is. Moisture issues in the home environment can cause cupping (creating a "washboard effect") in your hardwood floor. Without getting too technical, the construction of engineered hardwood flooring gives you the freedom to own the wider boards without the risks. If you want a wider board, think engineered.
People want versatility and options. Home construction on a concrete slab is becoming more prevalent. If you want a versatile product, solid hardwoods have their limitations. They can only be installed on a wood subfloor by nailing or stapling them down. Engineered hardwood floors, however, can be installed on, above or below grade (upstairs, main floor or basement). You can glue, float, staple or nail engineered hardwood and it can be installed on either a concrete or wood subfloor. What does this mean for you? Options. These options allow you to carry your flooring style throughout your home without regard to the obstacles that hold you back with traditional solid hardwood floors.
No matter which style and color you think is best, it is easy to agree that hardwood floors have a stunning impact on any home. Don't just settle for something nice. In today's marketplace, you should be able to find something that you absolutely love. Happy hardwood hunting!
Paul Prince is President of DOOR TO DOOR FLOORS, INC., a shop-at-home carpet & flooring dealer in Columbia, SC, and has 25 years' experience in the flooring industry. His company has been awarded the Angie's List Super Service Award for the last three consecutive years as a result of his company's commitment to excellent customer service.
>